Science, History, Art, Engineering and Math in our own beautiful backyard!
At The Nature Place, we believe that positive, hands-on experiences in nature that are accessible to all inspire meaningful connections and a sense of appreciation and stewardship for our natural world.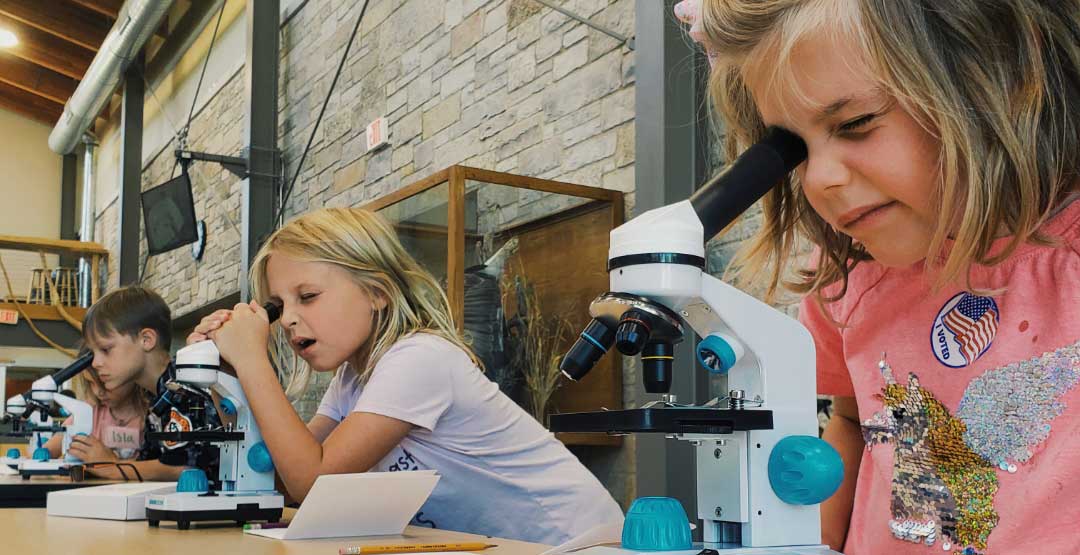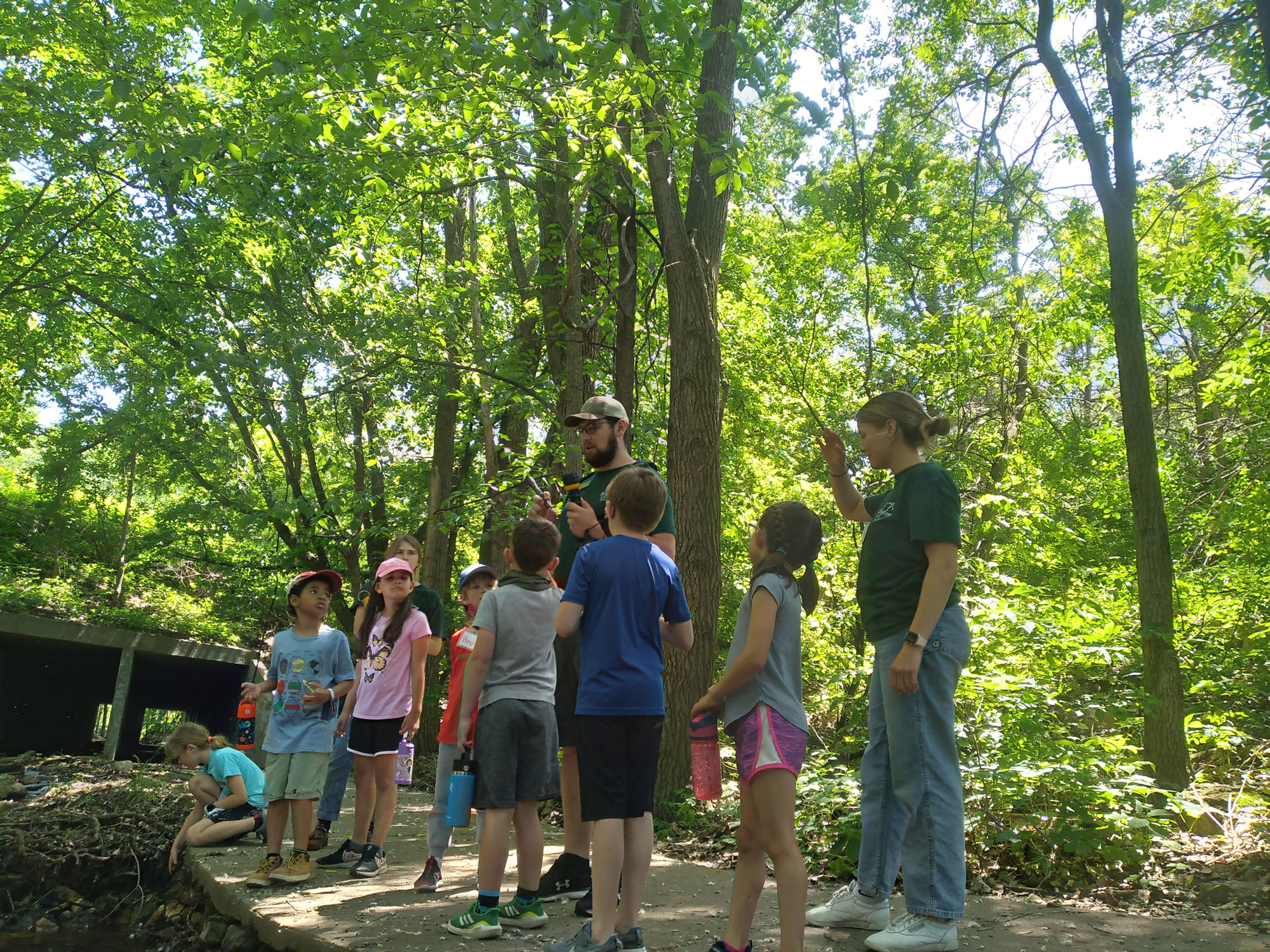 Nature Education Days for Schools at The Nature Place and/or Your School
The Nature Place can bring life to your lessons with interactive explorations.
Whether you are looking to FOSSter an interest in your science unit, create cross-curricular ties with reading, math, history or social studies units, reward your class with an outdoor experience or simply get outdoors – we would love to work with you!
Contact
Cindy Blobaum
Environmental Education Program Manager
Email Cindy or call 608-860-5363
Outdoor Education Programs
Preschool-Kindergarten Programs
Take a Walk on the Wild Side
Discuss signs of the season
Explore habitats using senses
Participate in nature activities/games to support cognitive development
Critter Capers
Learn about animal adaptations by investigating artifacts (skin coverings, skulls, etc.)
Meet a live education animal
Includes related book, and a song or fingerplay
Incredible Insects (best done Sept/Oct.)
Learn insect anatomy and life cycles
Catch, compare and identify insects and other arthropods from various habitats (park, forest, prairie, marsh)
During monarch migration (Sept.) tag monarch butterflies (weather and butterflies permitting)
Wisconsin Wildlife
Review basic animal classifications (birds, mammals, amphibians, reptiles, fish, arthropods)
Compare adaptations of local wildlife through hands-on examination of skulls, skins and tracks.
Learn about predator/prey relationships through games and discussions
Habitats & Adaptations
Identify basic components of a habitat
Visit & compare 2 different habitats in the area
ID 2 animals and their adaptations  - and deduce their preferred habitat
Tracking Predators and Prey
Define the concepts of population, predator, prey
Learn how to identify and use signs of wildlife
Discuss and try strategies for hiding & hunting
Participate in active predator/prey games
Cycles in Nature
Describe and give examples of food chains
Participate in activities about how living things depend on one another (food webs)
Investigate rotting logs and connect to renewal.
Wetland Wonders
Actively examine the plants and animals that live in area wetlands.
Use models to construct understanding of how wetlands are made and their value.
Prairie & Forest (September/October)
Visit and compare prairie and forest habitats through active investigation of plant characteristics and native residents.
Basic Birding
Learn basic bird identification skills
Compare bird adaptations
Learn to use a field guide and binoculars
Identify 2 bird species
Marsh Mania (September/October & April-June)
Learn the value of marshlands through metaphor activity
Investigate human and animal uses of the area
Practice use of compass and maps
Snowshoeing (conditions permitting)
An active adventure available when snow conditions permit.
Birds & Biodiversity (January/February)
Define biodiversity
List and explain three bird adaptations
Identify 2 bird species
Winter ecology and snowshoeing
Marsh Mania—Spring or Fall
GPS mapping—scavenger hunt
Marsh metaphor activity—The marsh is a …?
Mapping animal and human uses of the marsh
Orienteering—use of compass and maps
Prairie & Forest (September/October)
Identify prairie and forest habitats and recognize that prairies are an endangered habitat
Name 2 prairie plants and 2 forest plant adaptations
Identify 2 prairie plants and 2 forest plants
Cool Runnings—Winter Ecology
Observation skills and journaling
Snowshoeing (or hiking if no snow)
Photography with iPads
Study of the marsh in winter
Leave No Trace
Introduction to the 7 Leave No Trace Principles
Group discussion of survival essentials and strategies
Exploration of outdoor ethics with a group activity
Park Picassos
Sketch in nature and create natural dyes
Practice poetry skills and learn about the environmental functions of the La Crosse River Marsh
Create natural sculptures and discuss their relationship to effigy mounds in the Driftless Region
Foundations of the Driftless
Hike around the La Crosse River Marsh and learn about landforms
Learn about the effects of glaciation with an experiment
Simulate erosion caused by rivers and how it effects the surrounding landscape with a river erosion demonstration
Culture of the Marsh
Hike around Myrick Park and learn about the cultural history of Myrick Park and the La Crosse River Marsh
Discuss the significance of land acknowledgements
Compare and contrast colonial and pre-colonial perspectives about nature
Other Program Ideas or Build Your Own
Hydrology on the Banks of the La Crosse River
The watershed—maps and key concepts
Geography key concepts
Geology key concepts
Calculating flow rate
Guided Rope Marsh Walk
Group activity with blindfolds to use all senses except sight
Processing the experience
Written reflections
"The unforgettable #1 memory for kids"
Nature Protector Program
Invasive species education
Service learning component
Habitat restoration
HOPE program (Science of Climate Change)
HOPE = Helping Our Planet's Environment
Stations on ecosystems, phenology, inventory, movement, art in nature
Experiencing the Science of the Wetlands
Biotic indexing
Water filtration experiment
Hands-on Project WILD: data collection
Value and uses of wetlands
GENERAL FORMAT
Two-hour sessions—packaged as desired with maximum of 2 per day
Led by experts, linked to curriculum, tailored to classroom needs
Group size: tailored to a grade level experience of one or several classrooms
To reserve your day and time for any program or if you have questions, contact
Cindy Blobaum 608-782-2494 x234 or email cindy.blobaum@natureplacelacrosse.org
Fee: $5 per student.
Days and times programs are offered are limited, so contact us soon!
"My daughter loved it and we are still talking about it!! It was fun, safe, educational! It was very well organized and planned out."
"The staff were personable and greeted my daughter by name. Lots of creative activities too. I highly recommend this program. We will definitely do it again!"
"My son loved his program and was sad when it was over."